The Gym Leader.
Roxanne will versus you in her gym. She will have a rock falling gym and will have nosepass first.
Pokemon: Nosepass-Level 13 Geodude- Level 10
Onix-Level 11
Brawly is very tough. He will send his Makihta first.

Pokemon: Mauhkita-Level 21 Unknown
Wattson is the father of Flannery. His Pokemon are very easy but be careful of Magneton.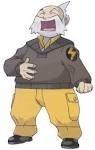 Pokemon: Magneton-Level 26
Manetric-Level 25
Manetric-Level 25
Flannery will be using her Torkal first so get a ground type or water type first.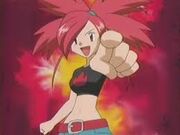 Pokemon: Torkal Level 34
Unknown
In the game, you will be choosing in the gym accuracy door or Speed door, you'll battle with trainers in that type of stat and will be versuing Norman in that kind of Stat as well.
Pokemon: Slaking Level 36
Vigaroth Level 34
Slathoth Level 34